Do you have those friends you are just dying to introduce to all your other friends? In this new guest post series, I am so excited to introduce you to some of the amazing people I have met who are taking a mini-retirement too! They spill on all the juicy details of how they pulled this off and what it's really like. Everyone has such diverse situations, I think you will love the variety of how a mini-retirement can look!
First up! Michael and Ellen who are a year into this mini-retirement/custom designed life with their two kids. We got to hang out this summer and they are incredible! They are a great example of how despite saving up the "standard" investments, people often find ways to add some income that fit into a mini-retirement while giving them their ideal lifestyle. I'm so excited for you all to "meet"! =)
What was life like before your mini-retirement?
Before stepping away from full-time work, Michael and I were living a typical 20-30 something middle-class life. We took trips (usually to see family), spent time with friends on the weekends, took our dog for walks in the evenings, and often felt like we never had enough time to get things done. We were married seven years before we had our son, and things certainly got more hectic after that. (How did I ever think I was "so busy" before then?!?) We were fully focused on being his parents while we continued working full-time jobs. During those days, we passed our non-working time playing with Leo, feeding him, getting him to sleep, and then praying he wouldn't wake up. My well-worn mantra: "Please don't wake up, please don't wake up, please don't wake up." Oh, and we'd also squeeze in cooking, cleaning, laundry and other household tasks during those windows when we were home. The daily grind of the American Dream is exhausting!
How long did you plan and prepare for this before taking the leap?
In our relationship, Michael is the academic. He happily dives head-first into the deep end of any topic that interests him. He reads dozens of books, articles, and listens to podcasts until he can essentially teach a course on the topic. Personal finance was an early area of interest for him. As such, we maximized contributions into our respective retirement accounts and pursued aggressive 50-70% savings rates from essentially the beginning of our post-college careers in 2004.
He gathered all of our bank statements going back to when we were around 16 years old and spent a couple evenings entering our entire financial history into iBank, a Quicken-like program. We used that program to manage our finances until we switched to Mint.com in 2008. He also set up a spreadsheet to track our progress toward financial independence (the man is a spreadsheet GENIUS).
We'd periodically set aside some time to walk through the spreadsheet, review our progress, and discuss how our monthly savings rate was impacting our projected financial future. I think that spreadsheet was essential. It allowed me to see the reality of what was possible. Just talking about it would not have been enough for me to see that we could get there.
What inspired you to do this NOW instead of waiting until you're fully retired?
Life essentially chose for us. I was pregnant with our second child and, although I made a respectable salary, it was not enough to justify daycare for two PLUS a ridiculously long commute (45 miles in each direction WITH tolls!). We also used the pregnancy as a motivation to finally move to Colorado, which we had been talking about doing for years. We felt pretty certain that moving was only going to get harder with two kids.
Unexpectedly, the move caused some conflict with Michael's business partners though. He had previously worked remotely in his company and had given his partners ample notice that he intended to return to remote work. Of course, there's more to the story and it's not worth going into detail here. Suffice to say by October of the year we moved, Michael switched from working full-time in his company to working a few hundred hours per year. Voila! A (sort of) early retirement!
Did you have any financial benchmarks you wanted to hit before your time away?
Our main financial goal had long been a paid off house and 25x our annual expenses in savings. We reached that milestone in our early thirties but assessed our lives at the time and decided we both wanted to continue working. We had some stress like any working professionals, but our lives were generally pretty good. I loved my job and I'm glad I stayed on with my organization until our daughter was born. Michael's job often had more ups and downs than mine, but on the whole, he got a lot of satisfaction out of building his company and enjoyed most aspects of the work. He probably would have continued working full-time in his company for many years to come.
What did you do with this time? How did life change? What did you learn along the way?
3 Months in Ecuador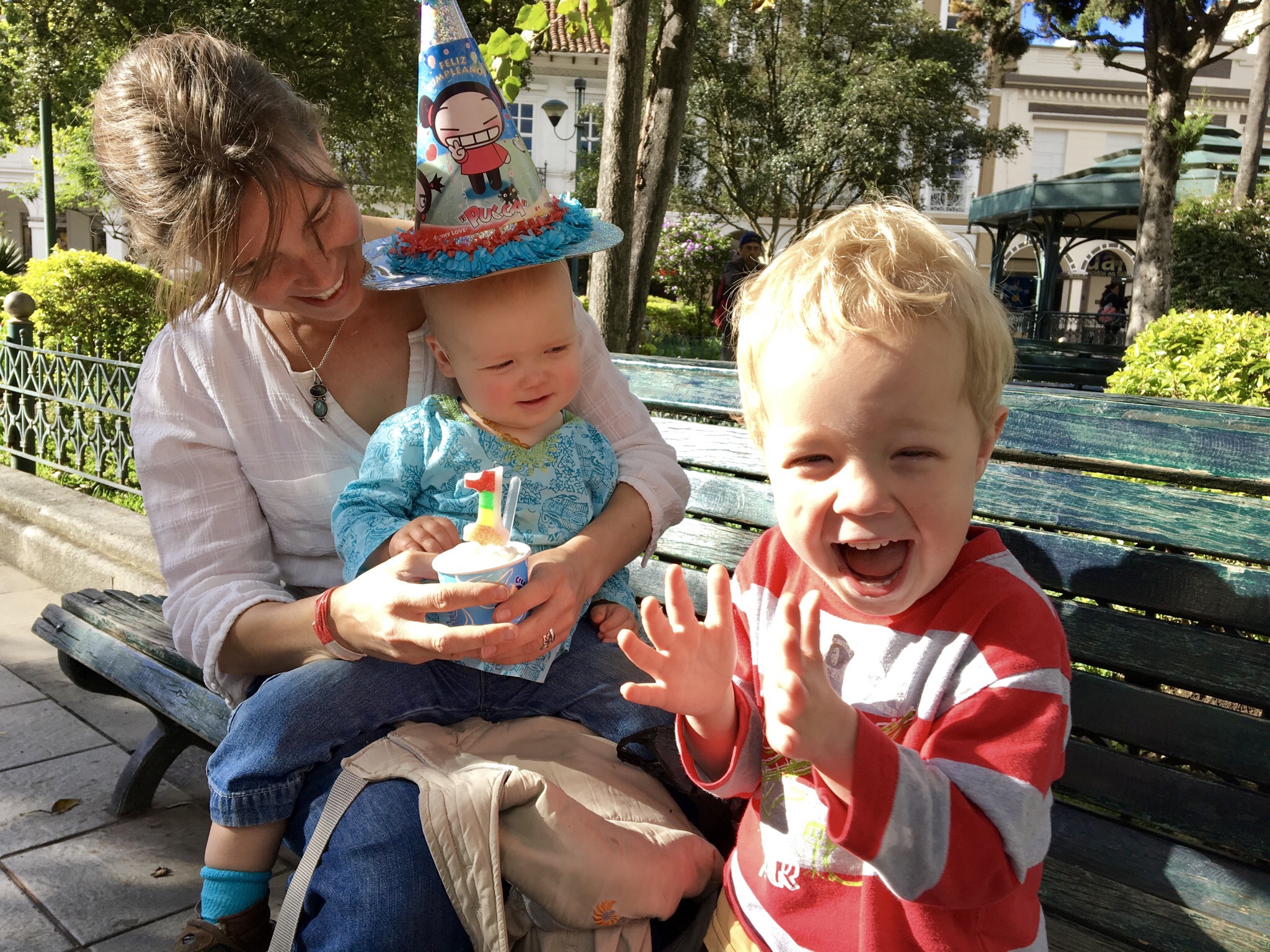 The first thing we did: put our house up on Airbnb and spent 3 months in Ecuador. Michael and I have always loved to travel. We met when we were 24 and studying Spanish at a language school in Cuernavaca, Mexico. We both have decent Spanish fluency and hope our kids can someday achieve some level of bilingualism as well.
That, in addition to our love of exploring new places, has kept us dreaming about traveling or even living abroad again. We assumed it would be when the kids were older (parenting a 2yr old and infant is typically adventure enough). However, our newfound flexibility presented us with something of a blank slate and we decided to go for it. After much research, we chose Cuenca, Ecuador for its low crime and pollution, language, affordability, climate, beauty, and relative proximity to the U.S. (it's only about a 5-hour flight from DFW where we connected).
I'd say it took us about a month to settle in, but once we did, we got ourselves into a nice routine and even met some great people in Cuenca who we've stayed in contact with since returning to the States. Things I loved the most: incredibly fresh (and CHEAP!) produce from the local market, gorgeous green mountains surrounding the city, clear, easy to understand Spanish and a very laid-back culture. Oh, and I really loved how easy it was to clean our small apartment vs. the 2,800 sq ft home we live in now.
What didn't I love? It's still a city (about 400,000 people) with plenty of traffic and noise pollution. There are some nice parks for the kids, but there aren't as many toddler-specific activities as we have at home. I really did love the adventures we were having, but I also missed home and our community.
Our Summer of Travel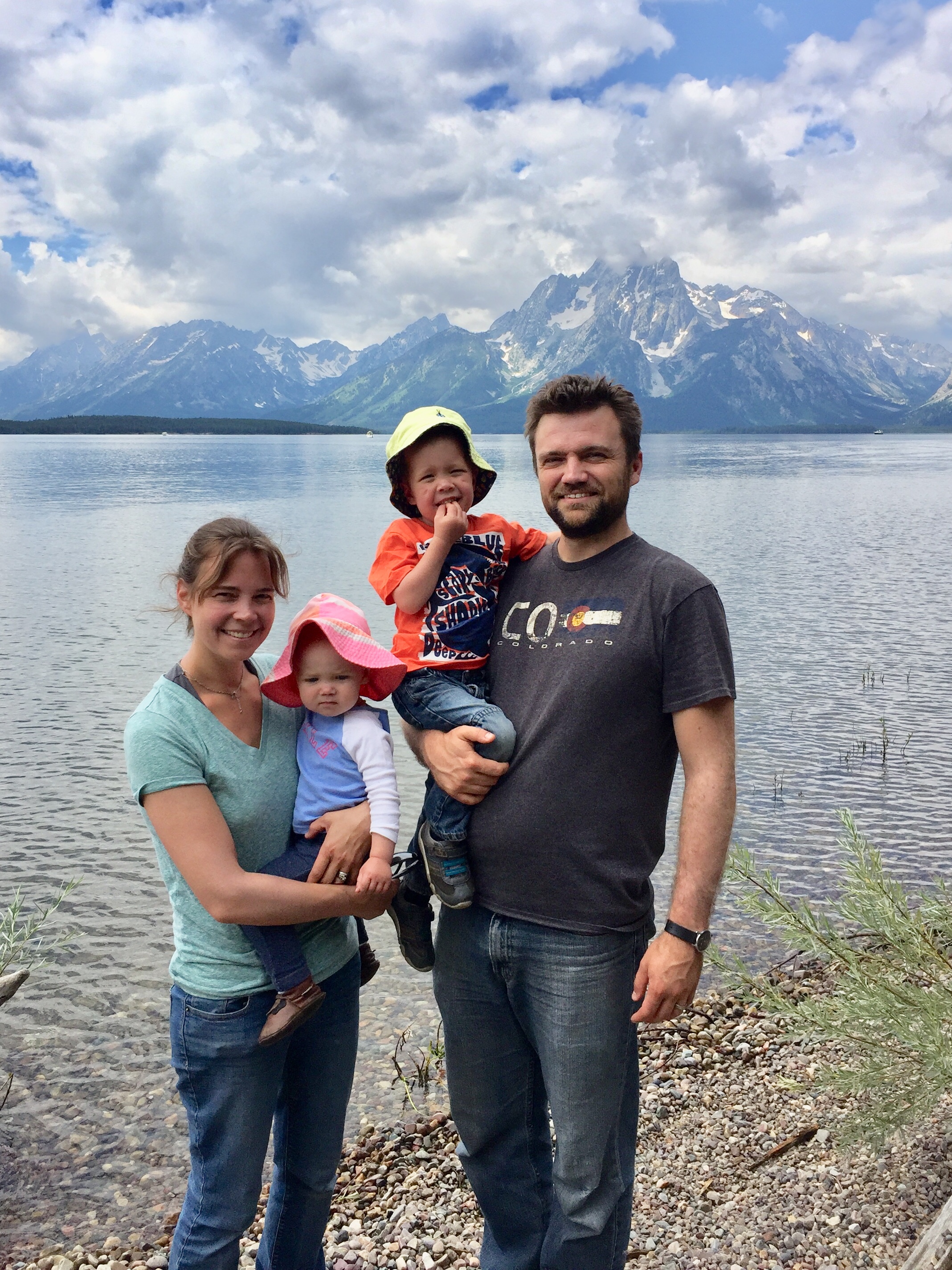 After returning from Ecuador, we proceeded to have a very busy spring and summer of travel. We made a couple trips to visit family and took a 3-week road trip in an old Class C RV we purchased in June.
The trip was really wonderful. We got to visit some of the most stunning places in the world (The Grand Tetons, Yellowstone, Flathead Lake, The Hood Canal) and met up with friends and family along the way (we even got to meet Jillian and her lovely family!). Editors Note: I made my awesome pancakes. If you visit, I might invite you over for dinner, it's how I roll! 
The RV made it so much more comfortable to travel with two small kids. We could pull up anywhere and pretty much settle in without any setup. Pilot truck stops were great for this, by the way. They welcomed free overnight RV stays in their well-lit parking lots. Their truck stops had coin-operated laundry machines and surprisingly clean and luxurious showers that only cost us $6 for our family.
We finished the trip at Scenic Beach State Park in Washington where we were able to celebrate with our two sweet kiddos playing on the same grassy patch where we had been married ten years prior.
Returning Home
Since August, we've been home and settling into some nice new routines. I focus the bulk of my time on being with the kids (we stay super busy and "most" of the time it's a total joy). Michael has continued his ongoing responsibilities in his company and has been working on setting up our Uncommon Dream website. His flexibility, however, means that he spends lots of time with the kids too. Most mornings, he prepares breakfast for the kids while I soak in another blissful hour of sleep. Several times a day he'll stop whatever he's doing for some spontaneous play with the kids. He also often watches them while I get some "off" time to run errands or do things like type up articles like this.
The biggest thing that has changed for me in the last year and a half (besides the move and the addition of a little girl to our family) has been my stress level. Although I do still let myself get worked up over small things like a messy kitchen (it's a THING for me), I am sooo much less stressed than I was when I was working. I'm actually even so much less stressed than when I was not working but Michael still was.
We have so much freedom and flexibility that it has allowed us to shape our daily lives in a way that most fulfills our needs. When I was working AND parenting, I just felt stretched in too many directions and unable to be effective at anything (I know, such a cliche, but it's so true!). Even when I was staying at home but Michael was working from home, I always felt guilty about asking for occasional support from him with the kids during the day (although he'd always assure me he was happy to do it). We'd get to the weekend, and there was still that overwhelming feeling of there being too much to do with too little time.
Inspired by this article by Ms. Montana, Michael and I sat down together in early July to list our respective values and write down our ideal day, week, month, and year. It was incredibly cathartic to put down on paper all the things we hoped we could do with our time (for ourselves, the kids, and each other). From that, we combined our thoughts into an ideal weekly schedule and that's been working pretty well for us. There's still plenty of tweaking to do, but I LOVE routines and it has done wonders for my sense of well-being. This "mini-retirement" (I'm not really sure what to call it) has absolutely been a dream come true.
What was the planning, preparing process like? What was the response from friends and family?
Other than the saving and investing we had been doing for years and years before this, there wasn't a lot of "preparing" that took place. It all coincided with our move and the birth of our daughter, so it got mixed up into one big, significant transition. Friends and family know that I don't work (there's not much unusual about a mama staying home to be with her kiddos). Most of them, I think, know that Michael is no longer working full-time, but because he still does some part-time contract work there's enough "normality" there to not require much explanation.
Honestly, I think the fact that it corresponded with a few other big changes in our life was really helpful. It's hard for me to imagine going from working to simply not working in our life before Colorado. On a Friday you drive to work, and then on Monday you just don't? I think that would be tough without some sort of other "something" to make it all feel special. That could maybe be accomplished with a big trip or a giant house project, since umm, not everyone is going to mark their transition to a mini-retirement with the birth of a baby!
Did you save up cash separately or draw money out of your 401k/IRA options? Was that scary/weird?
We had around $30k in checking at the start of our mini retirement but a fairly significant tax bill in January followed by our RV purchase in June brought our checking account balance down lower than it had been in many years.
Michael's continued work income and the Airbnb income we've earned while traveling has largely covered our expenses, but we did recently make one draw against our investments. After more than a decade of saving, it definitely felt weird to withdraw from our investment accounts even though intellectually we knew we could do so safely.
What do you imagine life will look like after your mini-retirement?
It's hard to say. I've considered going back into teaching once our kids are both in school. Michael may return to full-time work in his company at some point. Whatever we decide to do in the future, we've greatly benefited from this rare opportunity to enjoy so much time together as a family and we have no regrets.
Any tips or tricks you learned along the way that would be super helpful for anyone considering this?
The last year has shown us that we didn't necessarily need to have 25x our annual expenses in savings to take a mini-retirement like this. Whether it looks like Airbnb hosting and some light consulting work or something completely different, people considering a mini-retirement will likely find themselves getting involved in some income-generating project or another with all their newfound time.
I met up with Michael and Ellen at FinCon last week! I had just a few extra questions, so we did a video interview for you!!!! To be honest, we tried to record one the night before that turned into 100% blooper reel! But here is the helpful stuff. I'll let Michael throw the blooper reel into the comments if he dares. 
I love everything about their story….what's your favorite part?